Pain Relief From Cramps Naturally
Scott Paton and Fitness Experts
Apr 29 2016
www.hungarianwellnessmud.com
www.pms4comforte.com
www.alexandriaprofessional.com
Lina Kennedy

Comforté is the only all-natural pain relief cream for
menstrual cramps. It uses ingredients straight from the earth….plants, oils and extracts…and is based on a remedy that has been relieving pain for women in an African village for centuries.
Comforté contains only five all-natural ingredients:

Calotropis Procera is a flowering giant milkweed that's native to Africa and Asia, and has been used medicinally for centuries. Its benefits include fighting infections and possibly shrinking tumors. It has been called "a golden gift for human kind". In Comforté, its anti-inflammatory powers help ease the pain of cramps. The Journal of Pharmacy and Biological Sciences has reported the results of studies showing Calotropis Procera more effective than the anti-inflammatory drug Phenylbutazone (PBZ).

Carapa Procera is a tree that grows in Tropical Africa and Northern South America. The oil extracted from its nuts is a powerful analgesic, and helps Comforté provide pain relief in minutes, sometimes even instantly. In addition to relieving the pain of menstrual cramps, Carapa Oil also helps provide relief for people suffering from arthritis, joint pain, and other chronic types of pain. It's even been effective for treating wounds, along with excema and other skin conditions.

And more...

The National Association of Professional Women (NAPW) honors Lina Kennedy as a 2015-2016 inductee into its VIP Woman of the Year Circle. She is recognized with this prestigious distinction for leadership in esthetics. NAPW is the nation's leading networking organization exclusively for professional women, boasting more than 850,000 members and over 200 operating Local Chapters.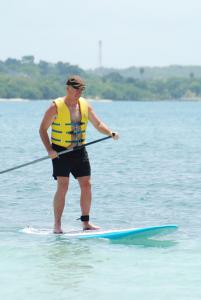 About Scott Paton and Fitness Experts
Our mission is to spread physical, mental and spiritual health throughout the world.

Achieve the health, strength and fitness you desire.

Break through barriers, leap over obstacles, walk through fear and become all you've ever wanted to be.

Are you one of the thousands of people who battle daily with their weight? Do you make promises to yourself to get healthy and fit, only to get sidetracked after a few weeks of being disciplined? Have you lost and then re-gained those same pounds countless times? Do you believe that your weight has held you back from achieving your dreams?

If any of the above sound familiar then you may be interested in our podcast.
Click here to see the full author's profile
Recent Episodes
Weight Loss and the Mind | Podcast #232
Pain Relief From Cramps Naturally
Sugar Addicts | Weight Loss and the Mind | Podcast #127
Why you aren't losing weight Part 2 | Weight Loss and the Mind | Podcast #127
'Why Can't I lose weight??' | Weight Loss and the Mind | Podcast #126
Cold Weather Exercising With Warm Blooded Friends | Weight Loss and the Mind | Podcast # 125
How to Create Good Habits | Weight Loss and the Mind | Podcast #124
Grocery Shopping and Weight | Weight Loss and the Mind | Podcast # 123
Weight Loss Myths | Weight Loss and the Mind | Podcast # 122
Weight Loss and the Mind 3.0 | Health | Fitness | NLP #121